Links Golf Lessons
Take advantage of the world class Golf Academy here at Trump Turnberry, and allow one of our fantastic team of PGA Professionals to help you improve your golf using the very best technology and facilities.
A wide range of lesson packages are available and can be tailored to suit any golfer, regardless of age or ability. Our goal at The Golf Academy is to help you reach your full potential, whether you are a complete beginner, a mid-handicapper or an aspiring Tour-Professional.
Introduction to Golf
For those who are new to golf, The Golf Academy at Trump Turnberry is the perfect facility and environment to learn how to play the game. Even if you have never touched a golf club before, an introductory lesson with one of our friendly PGA professionals will help to build your confidence, develop your initial techniques and make a welcome introduction to the game of golf.
SAM PuttLap
Struggling with your putting? Discover your individual strengths and weaknesses for a more consistent and technically correct putting stroke. On average, 43 % of golf shots per round are on putts, however, putting is rarely practiced systematically or effectively. SAM PuttLab is the World's most accurate and comprehensive putt analysis and training system. It analyses the 28 most important parameters of your putting stroke and displays the results in an easy to understand graphic report, which can be emailed to you for future reference.

On-course lessons
Experience a highly beneficial on-course playing lesson with one of our Academy Professionals. You will learn how to take your technique from the practice ground to the course, whilst developing your course-management skills, pre-shot routines and mental strength. You will also be taught how to play a variety of shots that are specific to Scottish links golf.
Choose to play either our Championship 'Ailsa' course or 'King Robert The Bruce' course with a PGA Professional's guidance and expertise. We also have the fantastic 9 hole 'Arran' course for beginners looking to improve their confidence, and learn tips on the etiquette and rules of the game.
Academy Packages
If you are serious about improving your golf during your stay at Trump Turnberry, why not take advantage of our Academy links lesson packages. All packages will be customised to suit individual needs, ensuring that the weakest areas of your game are given the required attention.
One of our Academy Professionals will initially analyse all areas of your game using our state-of-the-art technology and develop a detailed action plan to help you progress accordingly.
All packages can be spread out over as many days as necessary to accommodate for your plans during your stay at Trump Turnberry.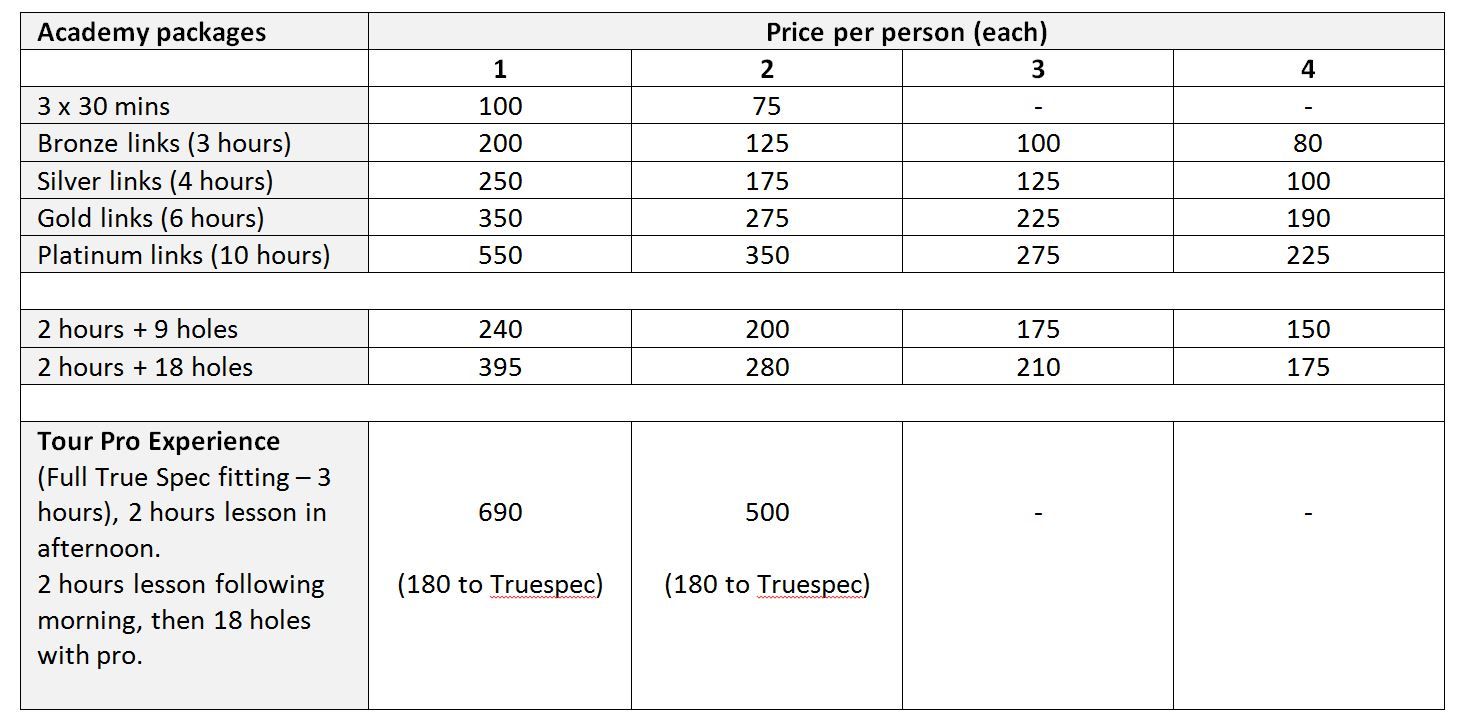 Junior Lessons
The Golf Academy at Trump Turnberry focused on growing the game of golf and making it fun for all juniors. Participation in golf can last a lifetime. It's a healthy active sport that instils the core values of honesty, sportsmanship and friendship whilst nurturing a competitive instinct and dedication.
Junior Packages
The Junior Packages at the Golf Academy are designed to be fun, memorable and challenging for all ages and abilities. Led by a motivated team of PGA professionals at The Golf Academy, each coaching session will be targeted to improving the understanding of the swing technique, short game, fitness and nutrition, routines and course management.
Choose from one of our junior packages or join one of our exciting junior camps that run during various school holidays throughout the year.