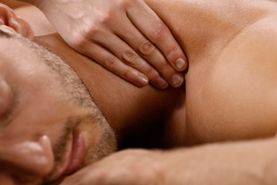 We encourage our male guests to enjoy any of our treatment experiences, however this selection is designed to help address specific areas of focus and tension.


Men's Purifying Facial, Shoulder and Scalp Massage
55 minutes
Specifically designed for Men this relaxing facial works at a deep level to purify, balance and hydrate the skin. Triple cleansing and steamy hot towels are used to soothe and soften the skin and facial hair. A relaxing massage of the face, shoulders and scalp leave you feeling relaxed and de-stressed.


Deep Cleansing Back Massage
50 Minutes
The back is deep cleansed, body brushed and exfoliated to help stimulate circulation and cell renewal, then calmed and relaxed with an aromatherapy massage and marine mud mask. Lower legs and feet receive a deeply relaxing massage while the mask takes effect.
To book your spa experience please call +44(0)1655 334 060
or email spa@trumpturnberry.com